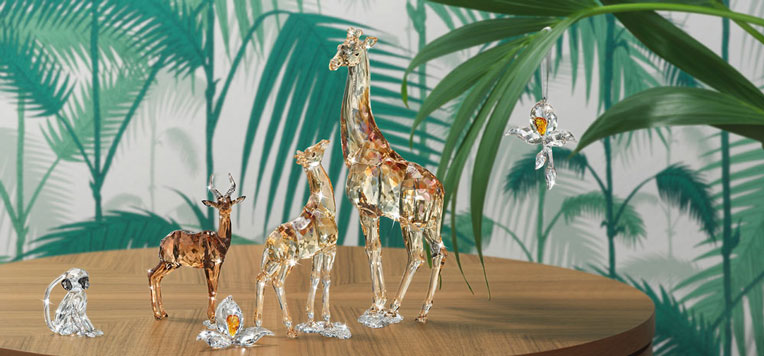 About Crystique
The Company
Step into any Crystique location and you'll step into a whole new world of crystal. Bright. Colourful. Exquisite. Fashioned after the finest jewellery shops of Europe, each Crystique location is a beacon of shimmering beauty attracting people of all ages.
First opened in 2002, Crystique has become the premier choice for those interested in the finest quality crystal products, whether they are classic figurines or the latest, trend-setting pieces of crystal fashion jewellry.
As one of the biggest Swarovski retailers in Canada, Crystique offers all the Swarovski product lines: Couture Line, Figurines & Collectables, Home & Style, and Jewellery & Accessories. Quality. Variety. Brilliance. Opening the door to a world of magic of crystal, Crystique discerns consumers' values and guarantees exclusivity and quality beyond compare.
Crystique is also a world of fashion jewellery that many people have yet to experience. Unique. Prestigious. Beautiful. The latest collections from world-renowned and award-winning designers such as Thomas Sabo and Carolee, as well as exclusive selections from ELLE, are showcased at all Crystique locations ensuring that customers have access to the most exciting looks the same styles and designs offered in Europe's finest fashion boutiques.
History
Business today is more competitive and demanding than in any other time in history. Succeeding requires more than just the right combination of people and products. Experience. Vision. Commitment. Our company has been operating successful businesses in North America for more than 30 years. During those years we have developed a business model that continues to deliver quality and value to all of our customers. From the very beginning, we have been committed to offering premium products, providing exceptional customer service and building strong and enduring relationships with our customers.
Growth
From simple to extravagant, elegant to flamboyant, Crystique continues to entice customers with unique crystal products. Fresh. Dazzling. Trendsetting.
With products that appeal to virtually all age groups, a progressive interest in fashion jewellery and an increasing enthusiasm for collectable and decorative crystal, Crystique is preparing for future growth. No other retailer offers the variety, service and vast business experience of Crystique. Exclusive products, enthusiastic customers and the retail experience to deliver success - Crystique.